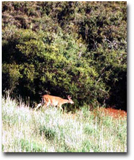 The ultimate goal of this research to improve our ability to predict ecosystem response to climate change. Our starting assumption is that plants and microorganisms mediate terrestrial ecosystem response to global climate change. While there are many groups of organisms that are critical to ecosystem function, we will employ the simplifying construct that plants and microbes are the primary mediators.
Ecosystem response to climate change potentially involves multiple levels of biological organization, ranging from cellular genomes to the response of the intact ecosystem.
Our goal is to utilize current genomic, transcriptomic, and bioinformatic concepts and tools in order to identify and evaluate the essential components of the pathway of mediation.
Can we enhance our ability to predict ecosystem response to future environmental change by evaluating the genomic basis of the response of the primary mediators?
Will information and understanding of the "macromolecular level" of control improve our ability to model terrestrial system function?